Why I gave up with clean eating and now eat Nutella & Coco Pops everyday to GAIN LEAN MUSCLE
People are sometimes surprised when I'm honest about what I actually eat when trying to gain muscle.
NUTELLA, PB&J, COCOPOPS. Every. Damn. Day. Oh and a little protein too......
I'm old school, I fully believe in BULKING and then cutting down. None of this 'lean slow(no) gains' business.
Bulking isn't easy. If you've ever told somebody you're bulking the first thing they'll say is 'oh it must be sooo hard to eat loads of food HAHA' it is. Eating a high calorie diet EVERYDAY, consistently is hard work. Especially when a large portion of your diet is coming from protein, the most filling macro of them all.
Sometimes, you're just not hungry. But you gotta eat, if you don't eat you ain't making no real gains. I'm sorry but that's the truth.
When you're dieting and chiselling away at your body fat, you have to make food sacrifices. You have to eat clean & nutritious meals. I mean you don't have to, but you should if you give a shit about your health. You have to make sacrifices, every damn day. With your food and your social life.
So why on earth would you eat completely clean when you're trying to GAIN weight and struggling to stuff your face with chicken, rice & broccoli 10 times per day.
Every morning and yes I mean EVERY morning, I have my overnight oats (protein, milk & oats) and I have a BIG bowl too, and you know why I LOVE it. Nutella. I have one big old tablespoon of that chocolatey hazelnut goodness with it. It's about an extra 200 calories and it makes my 800 calorie bowl of oats delicious. Every damn bite.
800 calories, 60g protein tick!
For lunch, I'll have a semi bro-meal, meaning something along the lines of chicken, rice & avocado. Nothing too fancy, but something tasty. Throw in your favourite sauce, it'll add about 50-100 calories and your meal will end up about 650-800 calories. Easy.
1600 calories, 110g protein tick!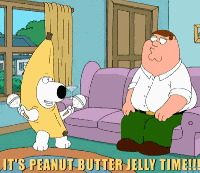 Pre-workout I'll have something carb heavy, usually some bagels with peanut butter & jam. Because I got the USA memo and PB&J is life. This brings home another 500 calories of tasty.
2100 calories, 130g protein tick!
Post workout I'll go completely bro-science and get an 'anabolic' meal. It's always the same. 200ml milk, 50g whey protein & 100g cocopops. This helps refill glycogen levels after a big workout and provide my freshly broken muscles with the protein they need to repair. Oh and plenty of insulin from the sugars.. insulin is the most anabolic hormone we have, make the most of it AT THE RIGHT TIMES.
Best of all, this meal is about 600 calories, easy AF to eat & keeps me full for about an hour at most.
2700 calories, 180g protein tick!
For my evening meal, I'll have something semi-bro / semi-tasty. I always eat my evening meal with my other half, so suggesting a complete bro meal is off the table (literally). Something like extra lean steak mince fajitas, using low fat cheese, peppers, onions & jalapeños. Delicious. Another solid 700-800 calories.
3400 calories, 240 protein tick!
I don't always, but if I do (depending on my meal timings during the day) I'll have an evening meal snack, it's simple, easy to eat & isn't too heavy on the ol' stomach before bed. 200g fat free greek yogurt, 20g vanilla whey protein, 20g peanut butter & 30g granola. It's the easiest 400 calories you'll ever eat.
3800 calories, 280g protein tick!
Daily Nutrition & Macros (roughly)
Calories: ~3800
Protein: ~280g
Carbs: ~450g
Fat: ~95g
Bulking rules I live by
Hit my calorie goal by 10%

Hit my protein target by 10%

Keep below 100g fat

ENJOY EVERYTHING I EAT

Train so hard I don't give my body the reason to get fat

Accept a little fat gain.........